About Me
Jon has been a guitar player since he was 15, he chose guitar as the rest of the family were all piano players / Teachers! Whilst still at school he worked on Saturdays for a well known local Luthier / Guitar repairer which then led to a full time apprenticeship where he first learned his trade. After a few years in 1989 he joined a well known Musical Instrument Distributor in Braintree as a Guitar Technician working with Gibson, Epiphone ,Rickenbacker and B C Rich guitars and stayed there up until July 2013. He started in his first band at the age of 16 and has played in many over the years including Mauve, RiffRaff, and presently playing with Backporch - and party band Frisky. And so he continues on with his passion for music and Guitars !
Content & Prices
Guitar, Bass, Mandolin & ukelele Set-up
Ensuring your guitar is set-up correctly and serviced regularly is essential to maintaining a great sounding instrument that plays effortlessly. Over time truss-rods, saddles and tremolo's all move around leaving your instrument falling short of it's potential
Re-string - £10.00 + strings (customer can provide own if preferred)
Fret Dressing & Re-fret
Guitar frets become worn over time but a fret dress will restore the level of un-even frets and ensure optimum playability. Highly polished frets make it feel more comfortable and easier for string bending
Fret dress & full set-up- £50 + strings
Re-fret - £180 + strings + top nut if req'd
Sharp fret ends - £30
Guitar/Stringed Instrument Repairs
Accidents can happen, but it's only rock 'n' roll. Don't despair, even the most drastic damage can sometimes be repaired including broken headstocks.
Broken headstock - from £40
Re-glue braces - £20
Cracks / separations - From £20
Re-glue bridge from - £40
Bench time - £ 20 per hour plus parts
Pick-ups, electrics & re-wiring
Noisy volume pots and switches can be replaced to ensure quiet operation. Replacing standard electrics with quality parts is a great way of improving the sound of your instrument
Potentiometer replacement - solid body £15 plus parts, for Stratocaster style and semi hollow £20 plus parts
Selector / toggle switch - sold body £10 plus parts, for Stratocaster style and semi hollow £20 plus parts
Pick-up replacement;
Gibson / humbucking style - £15 first pick-up £5 thereafter plus parts
Strat / Tele style - £20 first pick-up £5 thereafter plus parts
Under saddle pick-up - £30 plus parts
Hardware Upgrades
Direct replacement machine heads - £10 plus parts
If drilling required - £15 plus parts
End pins - £10 + parts

Jack socket;
Solid body guitar- £15 plus parts, hollow body £20 plus parts
Barrel jack - £15 plus parts
Acoustic end pin jack - £20 plus parts
Acoustic saddle - £25 plus parts
Top nut - £30 plus parts
Testimonials
If any of my guitar playing friends need any work done on their instruments I can thoroughly recommend this guy. I've known him for years and he has now set up his own business - having been Head Technician at Rosetti's for ages. Very good work and very reasonable prices. Just had a fret dress and some repair work on the bridge of my Fender Precision Bass and I'm well chuffed!!
I had the pleasure of employing and working with Jon Miller for many years and was always impressed with his skill and expertise with guitars, often carrying out difficult repairs and adjustments on some very expensive instruments. He is in my opinion a very experienced, knowledgeable and talented craftsman.
Stevie G
I've known Jon for many years and not only is he a great person he is a complete professional and his skills as a guitar technician are second to none, with 20+ years with gibson guitars his knowledge is phenomenal. If you want your expensive instrument to sound and feel perfect every time you play it, then there is only one person I will send my guitars to.....
Louis Davey Ipswich
My '88 strat guitar was in need of some TLC and Jonny certainly gave it that! The neck had a few dings and scrapes out of it but it now feels brand new. I had my frets re-profiled, the back of the neck lightly sanded and also a set-up. My guitar has never played so well. I won't be going to anyone else from now on excellent work!
Tony Lewis
Jonny Miller has been looking after my instruments for some years and I have found his work to be excellent, whether it is with my regular gigging guitars or my rarer Gretsch Country Gent and Hofner Violin Bass guitars.
Dave Stainer, Silbury Hill
Jon did a great job on my Gibson. It's clear that the guy is more than just the finest guitar technician - he loves guitars like family . The bridge of my 1970's J40 was pulling away so you could see daylight through it. Jon did a completely invisible repair on it and in addition fully serviced, cleaned and set it up (First time since I bought it in 1982). Felt like a new instrument.
Ant Ripley
My name is Ant Ripley and in a round-about way I've known Jon for years. The distant wailing of the guitar used to fill the air as Jon Miller gave the best to the summers day, I have very recently had my strat re loved ,re-fretted, re-wired, re woken up. My strat has been transformed into the best playing guitar I have ever touched and that is all credit to Jon Miller. If you want the guitar of your dreams its simple contact Jon asap and don't delay as the service is amazing. My electro acoustic will allow me to follow and re-create my dreams..
Alex de Moller
My guitar has never sounded so good! He's the best
Guy Middleton, London
I asked Jonny to look at the ruined wiring on my 50 year old Framus semi. Jonny not only restored the wiring, he fixed the binding, dressed the frets and cleaned half a century of grime from all the hardware on the guitar. Jonny clearly takes pride and pleasure in his work. It now looks,sounds and feels great!
James Crowe
Infinitely more playable - I came into possession of a 1980's Yamaha acoustic. In it's day a nice guitar,however it was in a sorry state with a lot of buzzing. I sought out Jonny and he not only corrected out the buzzing but the set up made the guitar incredibly playable. The guitar now plays like a dream and I can't put it down! So much so I had to take Jonny my other guitar ( Martin D-15 ) to be set up. I had been playing it for 5 years with the factory set up,now Jonny has worked his magic it feels amazing, same great sound just infinitely more playable. Jonny gives a great service, I communicated by phone ,text and e-mail he was happy to answer all my questions and the work was completed to a high standard for a good price. As an intermediate acoustic player I always thought these types of services were only for serious professional guitar players, this is totally wrong! I wish I had taken my first guitar to Jonny, it would have made learning those barre chords that little bit easier.
Ash Cooper
I have taken two of my guitars to Jonny one for a fret dress and set-up and the other for a set-up, the playability of the guitars after the work was carried out was so much better than I ever thought possible. Jonny was very helpful and answered all my questions. I will take every guitar I buy straight to Jonny even if they sound ok out of the shop they will sound and feel amazing after a proper set-up!
Phil - Dove Studio
Hi Jonny just wanted to say thanks again for sorting out my guitars, just used my bass to record on a track for the first time since the work was done...no buzzes, lovely feel, clear and clean. Thank you - actually going to be my best Xmas present!
Ralph Mullan
Jonny offered a quality and friendly service turning a troublesome Gibson 335 copy into something that played like a real one. Magic happened here ! I really appreciated the sage advice around where to invest to gain audible improvements.
Emergency repair - Corrosion of Conformity
Hi Jonny I am currently tour managing a band who are playing at the Colchester Art Centre tomorrow ( 12th Mar ). We have an abr-1 style bridge that needs replacing and the guitar set up in a drop D tuning. Are you available to help us out at all ? I know it is last minute and we are only in town for the day but if you could possibly do an on-site repair that would be amazing. Thanks in advance Rob Heilig Tour Manager for Corrosion of Conformity
Hi Jonny All is going really well thanks Pepper is really pleased.... with a right hand as heavy as his we need a rock solid bridge that will hold its tuning and intention. You did a great job so thank you for saving the day ! Rob Heilig
Jack Flannagan
Thank you so much for repairing my Rickenbacker , looks and plays like new. Thoroughly recommend you to all - a friendly guy and you will not get ripped off ! Many thanks
Julian Shome
I have no hesitation in recommending Jonny Miller to anybody looking for a first class service . He is conscientious , friendly and very experienced. A real find.
Dan Potterton - Ipswich
Amazing standard of work. Superb value for money and a genuinely lovely guy ,I'm over the moon with what Jonny has done with my Gibson SG and my Stingray bass. They now feel and play how I always wanted-he came highly recommended and rightly so. Real craftsmanship combined with old school service and value. Top man !
Christopher Guyatt
Friendly, reliable and talented are the three words I would use to describe Jonny and what he does for his customers. I brought him a little known brand of bass guitar with a strange fretting system and off set neck and not only was he able to give the bass a perfect set-up but when we encountered a strange noise on a separate occasion he was able to fix the problem in little time and for a very reasonable price. I've made him my go to guy and I would suggest you to as well!
Will Leeks
I got in touch with Jonny for a full set-up and bit of repair work on my Gibson Les Paul. I wasn't sure exactly what state it was in under the hood but I had left it in very safe hands .Jonny identified the problem, sorted it out and had my guitar playing better than I've ever experienced . You can't ask for more than that and I wouldn't hesitate to contact Jonny again.
Chris Hurley
Just wanted to drop you a quick note to say thank you so much for setting up my bass. When I dropped it off you you it was only good for stirring paint. It had wrecked electronics and horrible action and intonation, but now it plays superbly. I have never seen a neck that straight. String spacing and height are perfect too. It now plays like a much more expensive instrument. Before my next gig I'll definitely be dropping off my Jazz bass for a set up too. No one else will be working on my basses from now on.
Tony
Thanks for taking care of my vintage Gretschs', and sorting out the frets and fingerboard. They all play and sound wonderful. Excellent workmanship. Thanks again .
Jason Collingwood
Many, many thanks for your work on my guitar, it's now a pleasure to play! It even makes me sound in tune! May well bring my other guitars in the future.
Carol - West Mersea
As a novice mandolin player I was having great difficulty playing certain chords and was on the verge of giving up when I read on the web about high action. I contacted Jonny and he was very helpful and understanding and offered to check my mandolin over giving advice and that I was under no obligation. I went to see him and he confirmed that was the problem and that he could fix it. When I went to pick it up it not only sounded better, but he had lowered the action and cleaned all the frets. It looked so much better I hardly recognised it ! I would recommend Jonny to anyone who is just starting out if they have a problem with their mandolin.
Dave - Essex
I found Jonny through his excellent website as my 17 year old acoustic was in need of help. I have a few guitars and this one means the most to me having travelled with me all over the place. Not only is he a smashing chap but having picked up my instrument this evening ( quick turn around ) he has set it up like its a new guitar, better than when originally purchased and re fixed the bridge. The action is now superb thanks to his skills and knowledge. I would highly recommend him to anyone looking for a professional, approachable service. Thanks Jonny, as said earlier, it's made me smile a lot.
Robert Stephens
Thanks again for my guitar, It is definitely the best guitar I've played, and has justified the guitar. "I went to Jonny with a guitar that was near unplayable and stopped me from playing the guitar for a long time. After giving the guitar to him and had it returned promptly, It is definitely the best guitar I've ever played, And is a joy to play. Changed my guitar into a great player! Prompt Service, Great work. Would recommend to anyone. Thanks Jonny.
Richard Brazear
My fingers are working again and I've been able to give the guitar a workout. It plays beautifully and it feels 20 years younger. You've done a brilliant job on it and at a very reasonable price. Many thanks. See you again before too long.
Colin Cripps
Two guitars brought back to vibrant life - one acoustic, one electric. They play brilliantly and sound better than when I first bought them. The charges were very reasonable and Jonny really listens to your requirements and then gives you exactly what you want in good time. I can't think of a higher recommendation and, like Arnie, I'll be back.
Steve Coe
Jon has been very helpful & has done a very professional job on a couple of my guitars. Handcrafting a bespoke saddle and full set up for my through bridge Gibson AJ and setting up my Martin acoustic I would thoroughly recommend him for any work that anybody needs to have done.
Shane Kirk
The phrase 'factory set up' can mask a multitude of sins, and however your international shipper might promise that a new guitar will be playable out of the box, there are inevitably going to be teething troubles. Having made just such a purchase, I was pretty resigned to being wary about heavy-handedness, abandoning the use of a capo and not going too far up the dusty end due to intonation and fret buzz issues. Upon suggestion from a friend I passed the instrument on to Jonny, who turned it around within a very tight deadline and returned to me a pristine, perfectly set up, buzz free, in-tune-all-the-way-up guitar which has become my staple gigging workhorse, simply due to its new-found reliability. I can't recommend Jonny's service, expertise and attention to detail highly enough and I am sending all of my guitars in turn to be similarly spruced and serviced.
Mike Bostock
Hello Jonny..Thank you so much for making me a new nut. I did a little careful sandpapering with a folded edge of sandpaper to make the right angle sharp and remove glue and paper residue from the nut slot on my guitar and the new nut seats beautifully. You have judged the string height and string slot sizes perfectly and it sounds great again and is easy to play. I can't thank you enough. Great work!
Scott
Hi Jonny, just to let you know my Gibson Blackbird now plays like a dream,thanks again.
Mike Taylor
Hi Jonny,just like to say thank you for setting up my Epiphone 335 it now plays really well ! I have a Tele that needs your magic touch must try and get it to you soon
Martin Lewis
Thanks for making my Squier Telecaster and Eastcoast electro acoustic guitars feel different again! They're such a joy to play that I can't put them down! Just by checking out your website and speaking to you, I knew they would be in good hands. The scratch plate on my Les Paul is the perfect fit too. I wouldn't hesitate in recommending you as you're so easy to chat to and make things comfortable when discussing requirements and what needs to be done. To anyone trying to find a good luthier 'out east' I say- 'go see Jonny'! Cheers, and see you at a Back Porch gig in the New Year.
Kurt
I had my Fender Modern player Jazz bass set up and re-wired by Jon, when i took it to him the wiring was shot and it kept cutting out, also there was switch gear that i wanted to get rid of because i didn't use it. Without batting an eyelid he just said 'no problem' and sure enough a few days later he called to say it was done. the work he did to my bass was amazing, it looks and plays like a brand new instrument! cant thank him enough!
Ian Jordan - Coggeshall
Just to let you know I am very pleased with the set up job you did on the Gretsch. I played her 'in anger' yesterday and was a dream to play. I shall be recommending you to my friends.
Alan 'Boomer' Davey - Gunslinger & ex Hawkwind
My '84' Gibson Spirit electric guitar was not well, crackling, strings not ringing correctly etc. Gave it to Jonny and now it's playing and sounding perfectly.! He also set up my Brandoni custom Bass and replaced the top nut. That too plays and sounds much better'er than before. I'd highly recommend Jonny if you're in need of a Guitar Doctor.
Matt
I took Jonny a 1950s Gibson acoustic which was in a very sad state. The top was sunken, the back cracked and most struts were rattling around inside. I was half expecting to be given a huge quote and told it needed a new top and back. Instead he said he thought he could slowly pull it all back into shape. When I next saw the guitar, a few weeks later, I was amazed. The almost invisible repairs, and the care towards the original patina, made it very clear how skilled he is but also how much he loves guitars. And the rich tone and playability were fabulous. On top of that his fee was so reasonable I just had to round it up. What more can I say.....bring out your broken guitars." The guitar is still fantastic.
Peter Cook
I just wanted to say how pleased I am with the work you've done on my Taylor GS Mini, it now plays like i expected it to play and I can even hold down those Barr chords now!
Kozo
It has been brilliant! Playability is so good since you have done frets & set up. I have realized that I have been playing my bass with such a difficult set up strings were all too high consequently I needed extra finger strength to deal with. Also the volume control works fine no more buzzing noise and cutting off the sound. Thank you very much for your excellent work.
Toni Vines - Backporch. Played with, Alexis Korner, Lowell Fulson,Louisiana Red, Member of Mean Red Spiders, Shaboogamoo Shufflers
Jonny had done a couple of excellent jobs on my guitars in the past so I contacted him regarding a Cort L450c acoustic I had bought. The guitar had significant damage due to bad handling in shipping. The back was badly split and several of the glue joints were separated plus the neck was not true, all in all it was a total mess! I've just received the said guitar from him and WOW! The work is superb and what was a complete wreck is now a beautifully sounding and looking instrument. The neck is absolutely spot on and the repair to the body is faultless. I just can't put this guitar down now! I rarely give recommendations but this is terrific and I have no problem with telling anyone to go to this guy for all your guitar needs. Thank you Jonny you are the only man for my guitars!
Tom Denford
Set up /clean up on my 1996 Jap Fender Tele. Vast improvement just to get some attention on it and get the guitar cleaned up - it's been too long!The Fender looks and feels great now. Really good service. Much appreciated
John Lovegrove - The Floyd Effect
What can I say about about Jonny Miller? I have known JM for about 30 years now and in all that time i have found him to be one of the most honest, open and caring people I have ever had the pleasure to meet. He carries that care and honesty into his work. If I had never known him, never worked with him in numerous bands over the years, never had the honour of calling him a friend, I would still be able to work out what kind of person he is by the care and precision he takes when working on guitars. He has tended and cared for mine for the past 30 years and I would not have anyone else touch them unless, for some reason, the world was coming to an end
Mark Wesley
Just a quick mail to say thanks for your work on my Gibson Les Paul, you`ve sorted all the problems and she plays wonderfully again, you did a great job which I really appreciate. It was a pleasure meeting you and I`ll be in touch regarding the selector switch work needed on my strat. All the best
Graham Leckie - Earls Colne, Essex.
Enjoying my Taylor (guitar) even more now that Jonny Miller has set it up so beautifully for me; he also dressed the finger board and frets. She now plays easier, smoother and faster. Thanks man- a lovely job well done. Also thanks to my pal Danny Condon for the strong recommendation to go to Jonny Miller Guitar Repairs
Stuart Braybrook
Just wanted to drop you a mail and say awesome job on the Telecaster! It's probably the best playing guitar I have at the moment, so I might have to drop a couple more off for a setup :)
Peter Laraway
I have spent the last few days since picking up my guitar from you playing it and appreciating your craftsmanship. From a badly neglected 50 + year old classical guitar with unstuck bridge and cracked wood and warped inlays you created a beautiful looking instrument that sounds very clear and resonant. It is easy to play and very responsive with a great range of tonal colour. I am so pleased to have this family heirloom brought back to life and made playable. Thanks as well for keeping in touch as you were working on it. I think you had a very intuitive understanding of what was in my mind and your work went beyond what I could have imagined. Will be strongly recommending you to guitarist friends!
Andrew Drake
Just wanted to say thank you for sorting out my guitar today, and for being so upfront & honest as to what was wrong with it. It's rare in this day and age to find someone who is genuine and not out to rip you off. The Custom 77 CS4 might only be a cheap Les Paul copy but it sounds great through my Marshall amp. Thanks for your help
George Wood
Jonny did an excellent job on the fretboard of my Fender Telecaster- it feels great to play now! Really quick turnaround and he worked around my busy schedule. Really pleased
Danielz - T.Rextasy
So far, Jonny has not only updated/fixed my guitar-jack socket on my beloved Gibson Les Paul Traditional and set-up beautifully, but has also re-structured the guitar-jack socket on my Fender USA 1960s reissued (1990s) Stratocaster and set up nicely with pumiced frets and action. Quick and efficient, with absolutely competitive charges, not to mention being a musician himself, so he knows what we are going through, I'll be back again and again when I need one of my guitars seeing to! Thoroughly recommended!
Dave Wilson - Charrington Cole Blues Collective
I came across Jonny quite by chance and it was a lucky day for me when I did. He has sorted out a number of hollow-body guitars for me now and whether it's just tidying up relatively recent models or dealing with 40,50 or 60 year olds with serious neck problems and the like they all come back a pleasure to play and for very little money. You meet loads of people who want to do stuff but don't really have the chops and people with the chops but not properly committed to what they do - Jonny is one of that rare breed who has both !
Ian Collard
I asked Jonny to do an almost complete upgrade on a les paul copy for me. After meeting Jonny and having a good chat about what would be best to upgrade I had no doubt that I would get my guitar back better than ever. Jonny is a really nice and honest guy with years of experience who is a real find. Really pleased with the work Jonny has done and his price for doing the job makes doing the upgrades very affordable. Will be doing another upgrade in the future. Thank you Jonny !
Bob Bell - Colchester
The work carried out on my acoustic, electric and bass guitars has resulted in vast improvements in the performance of each instrument, far beyond my expectation of what was possible and thoughts I had of upgrading to more highly rated expensive alternatives were dispelled as soon as I played the instruments post repair, maintenance and setup by Jonny Miller.
Jonny has great integrity, will always be my first port of call in the future and I would not hesitate to recommend to others no matter how demanding the person and/or the work required.
Neil Phillips Ryan
I was testing the Michael Kelly a bit last night. I think I heard the guitar for the first time to be honest. Great job. I knew you were the man for this. Experience and talent count in guitar setups and you clearly have both. I also agree 10. to 46s are the way to go with this. That gauge will benefit any guitar it just sounds chunkier. more stable thicker more sustained tone. Once again great work.
Alex Tovell
After asking around for a recommended guitar tech, it sounded like Jonny was the go-to master to fit my new pickups and give my PRS SE a much-needed set-up. Friends spoke enthusiastically about him and just how passionate/skilled he is, so it would've been a crime to not contact him. He went above and beyond my expectations and now my guitar feels and sounds better than ever! I heartily recommend him for any guitar-related tinkering, you won't regret it!
Dave Perrett - Enfield
I used my 1935 Gibson L7 on Tuesday with the big band and it's great - I am really pleased with it. I have got no excuse for not sounding like Freddie Green now. As I said before I shan't hesitate to recommend you to anyone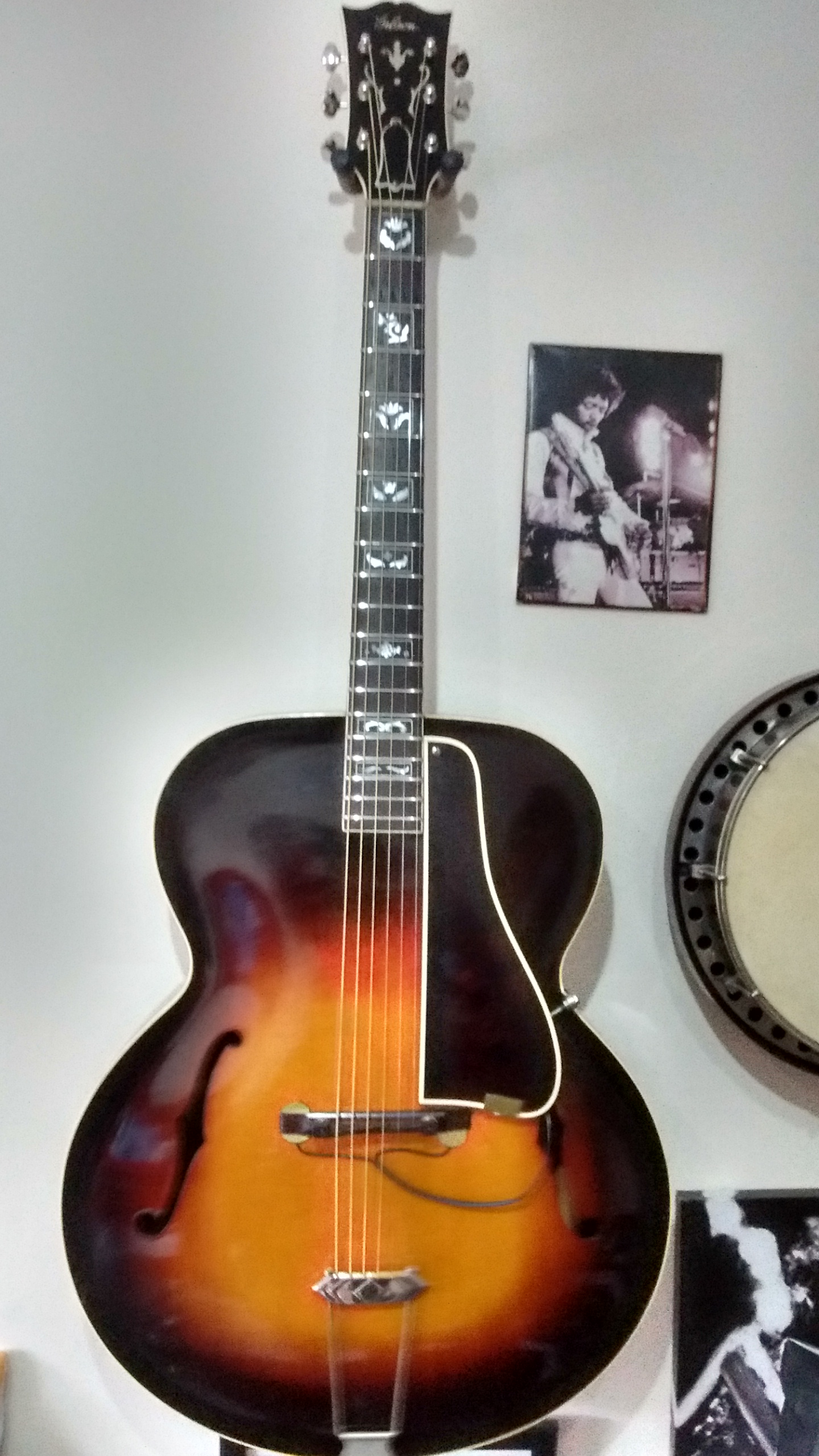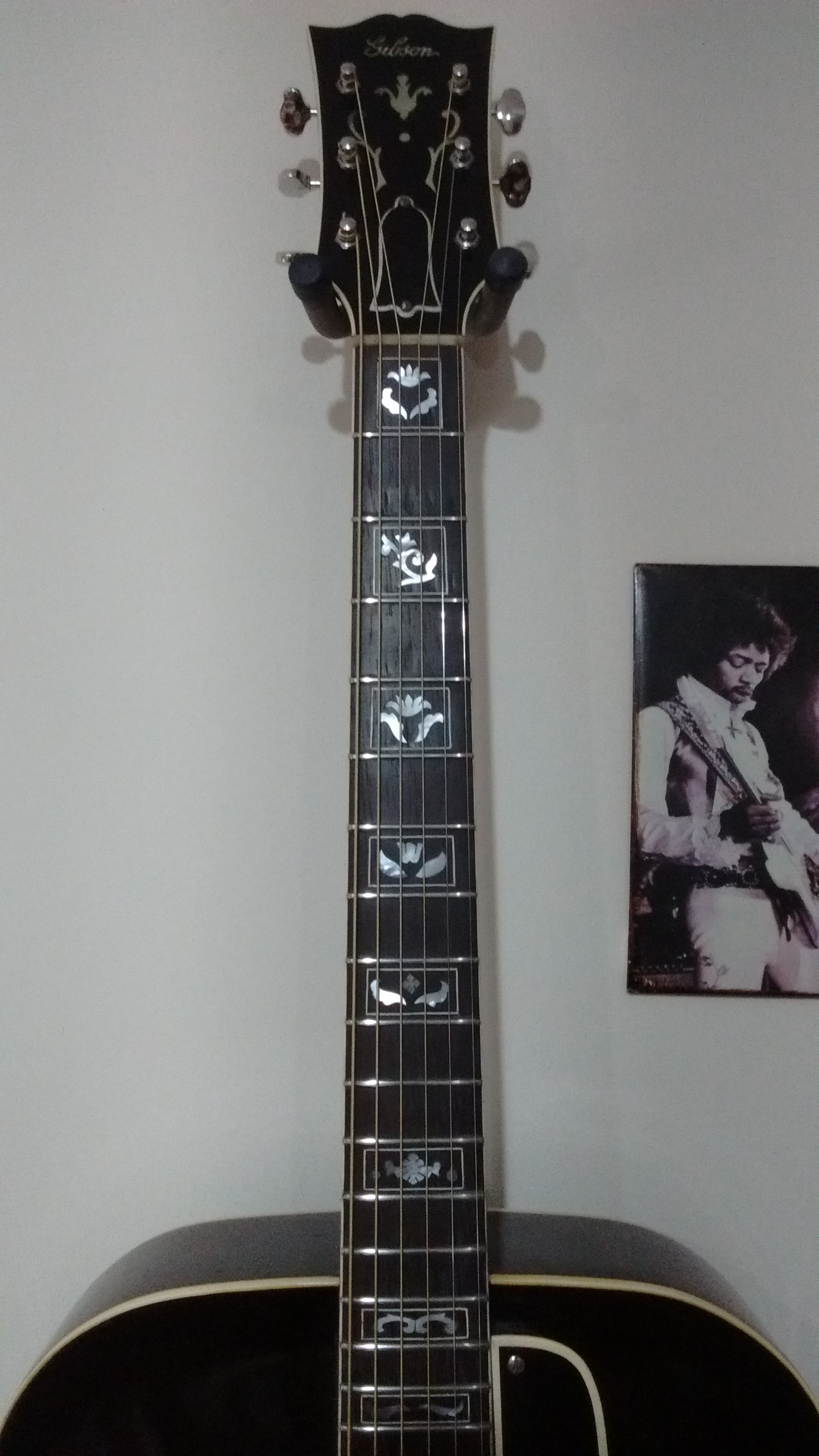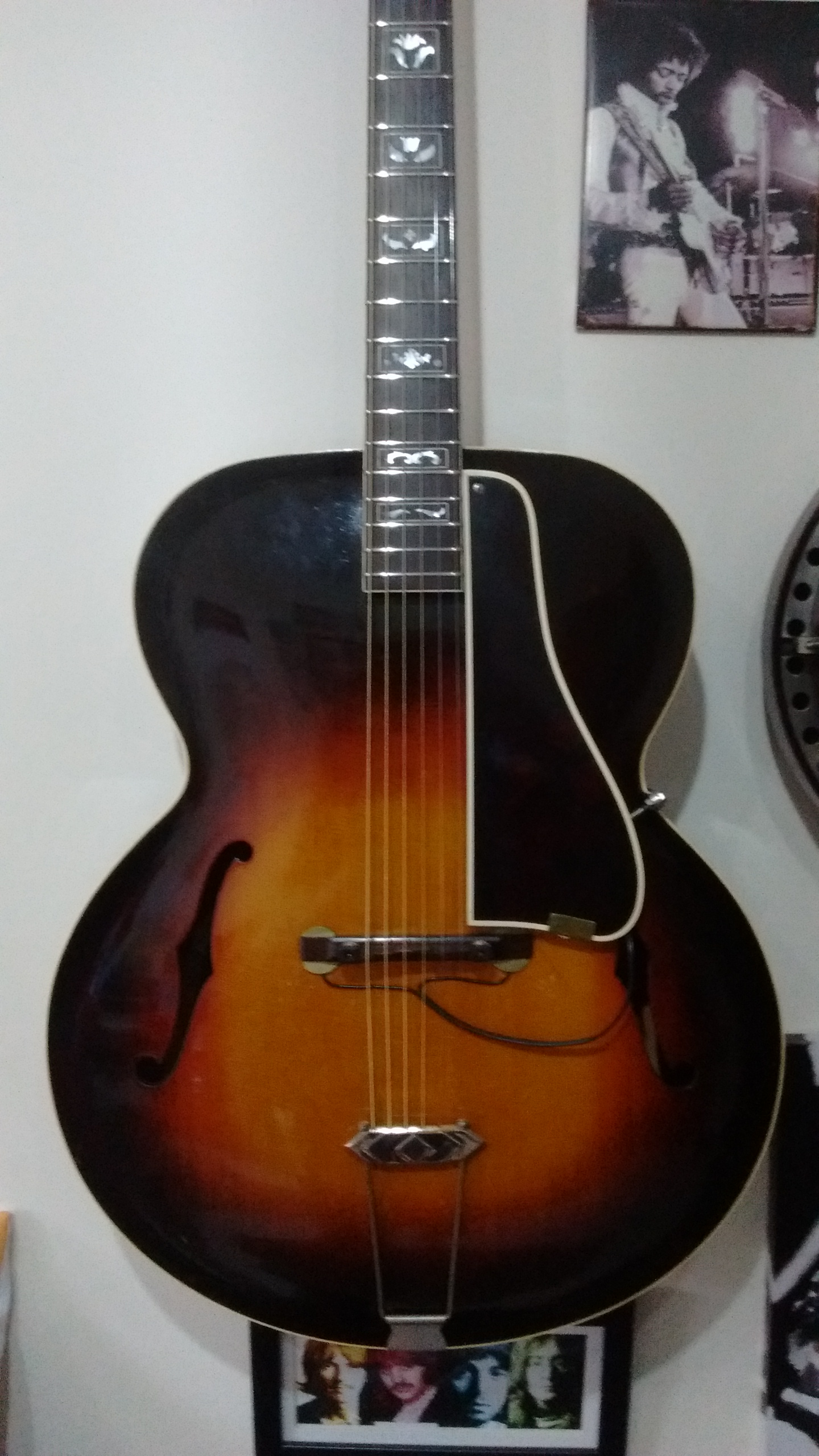 John Douglas
Fender Modern Player Set up One word. Stunning !!
Jason
Took my two favourite guitars to Jonny for a set up. Upon getting them back wished I'd done it sooner. Both play superbly! Would recommend Jonny to anyone wanting their guitar to be at it's best. Quick turn around, good prices and a thoroughly decent bloke.
Bob Calver
The Peavey you set up for me is a totally different guitar to the one that i brought to you. when they first came out i tried one and was impressed so when one came up i jumped at it. i know a lot of the problem is that i haven't really played properly for several years but i was disappointed with the guitar. but now i know its my shortcomings as a guitarist not the guitar. it plays well, sounds good and stays in tune even after a good trem bend. thanks again.
Robin Childs, West Mersea
Jonny recently carried out a fret dress and full set up on two of my most valuable and treasured guitars. I had not met him before, but was immediately impressed by his unassuming, yet thoroughly professional manner. I am absolutely delighted with the results, and would therefore have no hesitation in recommending him for any guitar related matters.
Sean O'Dell
Jonny has set up, fret-dressed and/or made bespoke modifications to a number of my guitars, and his work is absolutely first-class. In particular, my Les Paul Standard (which I purchased new in 1991) has just had its 'first service' from Jonny, and now it plays better than ever. It was appropriate for Jonny to carry out the job, as it is his signature on the original quality control card from when it was imported into the UK! His knowledge and craftmanship are outstanding, and his prices are very reasonable. I would not go anywhere else with my guitars.
Ben Galbraith
Hello Jonny just got round to play my guitar - it sounds amazing ! Thankyou so much
Prof Peter L Patrick, Wivenhoe
Jonny built me a partscaster – gave solid advice on components, never pushed for expensive bits – it looks beautiful and sounds really good. I really enjoyed learning from him and prices were very reasonable.
Andy
guitar plays lovely, thank you very much- such a difference in how it feels. It's inspired me to play and practise more. You're a star.
David Boyden
Jonny fitted an LR Baggs Anthem pick-up to my Martin OOO-15M and I couldn't have asked for a better quality service. The end product is very sleek and professional and Jonny was brilliant from start to finish. I'm very grateful and happy to refer any friends his way in the future.
Contact Me